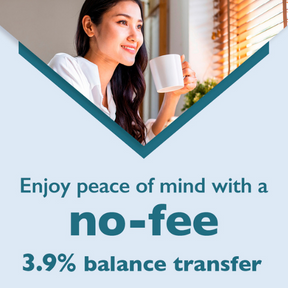 2022 3.9% Balance Transfer Offer
Do you want to reduce you credit card balances?  
If you have more than one credit card, a balance transfer could help you consolidate what you owe, streamlining multiple monthly bills into one easy low-interest payment.   
You could move your balance from any other credit card(s) to your NPSCU credit card and benefit from an interest rate as low as 3.9% for the first 6 months. Plus, there is no balance transfer fee! 

Timing 
This offer will be available from February 1 to December 31, 2022. 

Eligibility 
To qualify for this offer, members must carry a NPSCU consumer or business credit card at the time of balance transfer (US Dollar card excluded).
To receive the special 3.9% rate balances must be transferred between February 1 to December 31, 2022.

Each balance transfer must have a minimum value of $500; multiple transfers are allowed. 

Additional requirements: 
This offer applies to both new and existing cardholders 
Balance transfers cannot be made from another existing NPSCU Collabria Consumer or Business card
The 6-month promotional rate period applies separately to every balance transfer transaction performed within this campaign timing. In other words, the 6-month promotional rate period beings on the date of every balance transfer transaction performed