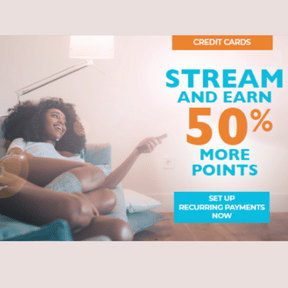 2022 Fall MCC Spend Offer
Campaign Overview
Whether it's getting that monthly bill paid on time or catching up on the latest binge-worthy series, your members' everyday spending is about to get even more rewarding!
Effective Dates
October 1st – November 30th
Timing & Eligibility
From October 1st to November 30th, consumer reward-based cards (excluding US Dollar card and Low-Rate Business) will receive 50% Bonus Reward Points for every $1 spent on their recurring Streaming, Utility, and Telco payments.
Eligible purchases are purchases from stores that fall under the following Merchant Category Codes (MCCs):
Code 4814: Telecommunications Services including: Local and Long Distance Calls, Credit Card Calls, Facsimile Services
Code 4816: Computer Network/Information Services
Code 4899: Cable, Satellite, and Other Pay Television and Radio Services
Code 4900: Utilities – Electric, Gas, Water, Sanitary
Code 5735: Record Shops
Code 5815: Digital Goods – Books, Movies, Music
Code 5816: Digital Goods – Games
Code 5817: Digital Goods – Applications (exclude games)
Code 5818: Large Digital Goods Merchant
Code 5968: Direct Marketing – Community / Subscription Merchants
Code 7841: DVD/Video Tape Rental
Code 7994: Video Game Arcades / Establishments
Rewards Breakdown & Structure
Rewards breakdown for each eligible card type is as follows:
Eligible Cards
Base Rewards identified MCCS
Incremental Points
Campaign Rewards on identified MCCs Breakdown for Campaign
Consumer
Cash Back
0.5 points/$1 spend
0.25
0.75 points/$1 spend
Centra Gold
1 points/$1 spend
0.5
1.5 points/$1 spend
Travel Rewards
1 points/$1 spend
0.5
1.5 points/$1 spend
Visa Infinite/World Mastercard
1 points/$1 spend
0.5
1.5 points/$1 spend

The Fall MCC Spend Offer will be reflected in cardholder accounts within two (2) statement cycles after November 30th, 2022.