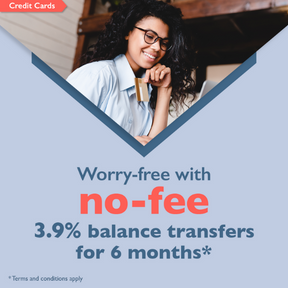 2023 3.9% Balance Transfer Offer
Effective Dates: Nov 14, 2022 – Dec 30, 2023
Offer Details
Feel good about reducing your credit card balances.  
If you have more than one credit card, a balance transfer could help consolidate what you owe, streamlining multiple monthly bills into one easy low-interest payment.   By transferring your balance from any other credit card to a NPSCU Collabria card you could benefit from an interest rate as low as 3.9% for the first 6 months. Plus, there is no balance transfer fee! 

Timing 
This offer will be available from January 1 to December 31, 2023.

Eligibility 
To qualify for this offer, members must carry an NPSCU business credit card at the time of balance transfer (US Dollar card excluded).
To receive the special 3.9% rate balances must be transferred between January 1 to December 31, 2023. 
Each balance transfer must have a minimum value of $500; multiple transfers are allowed. 

Additional requirements: 
This offer applies to both new and existing cardholders
Balance transfers cannot be made from another existing Collabria Consumer or Business card
The 6-month promotional rate period applies separately to every balance transfer transaction performed within this campaign timing. In other words, the 6-month promotional rate period beings on the date of every balance transfer transaction performed