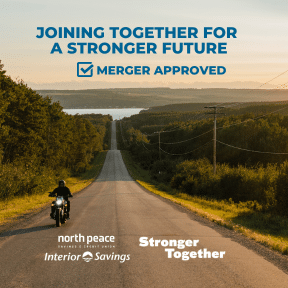 During the week of May 8-12, 2023, the members of North Peace Savings and Credit Union voted 82.7% in favour of merging with Interior Savings Credit Union. A minimum 67% of the votes cast, must be in favour, thus the proposal received the necessary approval to move ahead.
The merger, which will come into effect on July 1, 2023, will combine over 150 years of experience to create a stronger credit union with the resources and scale needed to better serve members within an increasingly competitive landscape.
"By bringing our two well-established and values-based credit unions together, we can provide more affordable, competitive and innovative banking options to members, greater access to training and career development opportunities for employees, and increase our investment in our communities," said Ted Pahl, CEO of North Peace Savings and Credit Union. "I'm particularly excited about the new $1 Million North Peace Savings Community Legacy Fund which will benefit important community programs and initiatives in the North Peace and Northern Rockies regions for years to come."
While the combined credit union will operate under the legal name of Interior Savings Credit Union, there is not expected to be an immediate rebranding of NPSCU branches which will continue to operate under the name 'North Peace Savings'. The combined credit union will provide a network of 25 branches and 16 insurance locations to approximately 90,000 members from Fort Nelson to communities across the Thompson Okanagan. Combined total assets under administration will be approximately $4.15 billion.
Noting their common values and shared commitment to preserving the human connection in banking, merger talks between the two credit unions began in 2021. With approval from both boards of directors, a business case was filed in December 2022 with BC's Financial Services Authority (BCFSA). In April, BCFSA gave consent to take the proposal to a member vote.
According to Brian Harris, CEO of Interior Savings, "We are thrilled that North Peace Savings members have voted in favour of this merger. We look forward to becoming a part of the scenic and energetic communities of the North Peace and Northern Rockies and to welcoming North Peace Savings employees to our team as we work together to take all that is great about our credit unions and make it even better."
While integration planning is underway, members will notice very few immediate changes to their banking. North Peace Savings members can continue to bank as they normally would. As the credit unions work to integrate operations, they will keep members informed and work to minimize disruption as much as possible.

For more information on the merged credit union, go to www.together-strong.ca.  
About Interior Savings
Interior Savings is a financial service cooperative spanning the BC interior from the Thompson Okanagan in the south and up through the Cariboo with branches from Oliver to Prince George. We provide a full range of personal and business banking, investment, and insurance solutions to approximately 80,000 members. With a passion for educating and empowering others to achieve their financial goals, we focus on providing advice tailored uniquely for each one of our members and have supported our collective membership and invested in our local communities for over 80 years. Learn more at interiorsavings.com or visit Interior Savings on Facebook or Do Some Good.
About North Peace Savings
North Peace Savings is a financial services cooperative that is owned by its membership. We continually strive to provide proactive service and creative financial solutions for our members – all while investing in and supporting our communities across the Peace and Northern Rockies regions with branches in Fort St. John, Fort Nelson, and Hudson's Hope. We have been serving and helping our retail, business and wealth management members, and our community to reach their financial goals for more than 75 years. Learn more at www.npscu.ca, or visit North Peace Savings and Credit Union on Facebook.
To learn more
Visit www.together-strong.ca, email North Peace Savings at strongertogether@npscu.ca or reach Interior Savings at strongertogether@interiorsavings.com.