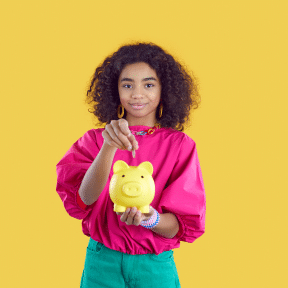 Get an A+ with a registered education savings plan 
Back to school is just around the corner, and your kindergartener is ready with all their new gear and bursting with excitement about their first big day at school.
Although it feels a long way off — now's the time to start planning for their post-secondary education.
Higher education can be a two- to four-year proposition at a college, university, or trade school. A typical four-year degree that includes living and study expenses, tuition, food, transportation and entertainment will run you about $90,000. If your child remains at home for post-secondary, the price tag is about $48,000. That's a lot — especially if you have more than one child.
This is where a registered education savings plan (RESP) comes in handy.
An RESP is a tax-deferred investment account with government incentives that allows you to save for your child's post-secondary education. Government contributions are provided through two programs: the Canada Education Savings Grants (CESGs), and the Canada Learning Bond (CLB). It's a great way to help ensure your child doesn't finish post-secondary school saddled with student loans.
The CESG grants are equal to 20 percent of the first $2,500 contributed each year to an RESP, with a lifetime maximum of $7,200 per student. To receive the government grant, you must be contributing to the RESP.
The CLB gives children from low-income families additional money for their education. Kids receive a maximum of $2,000: $500 for the first year and $100 for each subsequent year. Unlike the CESG, the parent doesn't need to be making contributions to the account.
The great thing about RESPs is, anyone can contribute: grandparents and other family members and friends, making them terrific gifts for birthdays or major holidays. And start early — as soon as you obtain a social insurance number for your child, RESP contributions can begin. Think first-year birthday!
A great way to contribute to an RESP is create a monthly saving plan, which your North Peace Savings Advisor can help you set up. Even if it's just a small amount, remember that the CESG grant helps it grow. The maximum contribution per child for RESPs is $50,000, which works out to a yearly payment of $3,000 over a 17-year period. That's only $250 a month — a manageable amount, especially if friends and family are contributing.
If you have more than one child, you may want to consider opening a family RESP, which allows several children to share in the savings. This allows all your kids to benefit from both growth and grants. If one child attends a cheaper post-secondary institution or spends fewer years obtaining a degree or certificate, more of the RESP funds can be funnelled into the other child's more expensive education program.
Opening an RESP is one of the best ways of ensuring your child attains a solid education without being weighted down with student debt. Your North Peace Savings Advisor will guide you every step of the way as you forge your child's path towards security, prosperity and self-fulfillment.
North Peace Saving / Credential Asset Management Inc.
North Peace Savings is a trade name of Interior Savings Credit Union.
Mutual funds are offered through Credential Asset Management Inc. The information contained in this email was obtained from sources believed to be reliable; however, we cannot guarantee that it is accurate or complete and it should not be considered personal taxation advice. We are not tax advisors and we recommend that clients seek independent advice from a professional advisor on tax related matters. This email is provided as a general source of information and should not be considered personal investment advice or a solicitation to buy or sell any mutual funds.
Associated Members

Christina Clarance, Investment Specialist Fort St. John is a community that Christina and her family are proud to call home. Having lived in Fort St. John for 9 years, raising her children here, and having her immediate family and friends nearby, she has developed strong and steadfast roots to the region. Christina joined the credit union system in 2019 and felt an immediate connection with the values and support she experienced within the credit union.…

read more