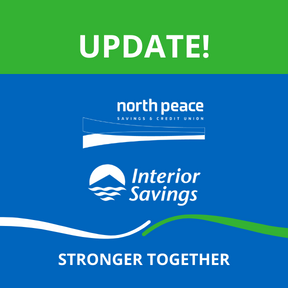 North Peace Savings and Interior Savings Boards Agree to Pursue Merger
Dec 8, 2022 (Kelowna and Fort St. John) – Since announcing the start of merger discussions between Interior Savings Credit Union and North Peace Savings & Credit Union in August, both credit unions have continued working together, preparing and planning for the future.
After completing a thorough assessment of the opportunity, we're pleased to share that both credit unions' Board of Directors unanimously agreed that combining our two credit unions is in the best interest of our members, our employees, and the communities that we serve. As a result, a business case and application has been submitted to the BC Financial Services Authority for review.
"We are very excited about the potential opportunities that we will realize by joining forces with Interior Savings," said Ted Pahl, CEO of North Peace Savings & Credit Union. "With complementary values and philosophies, together we will have a much deeper pool of resources and expertise to continue providing the best products, services and advice to our members, fulfilling careers for employees and meaningful investments in our community."
This sentiment is echoed by Brian Harris, CEO of Interior Savings, "Members from both credit unions will have more choices, more branches and more experts to support them. Through scale and combined resources, we can be far more effective as we adapt to shifting member needs as well as increasing regulatory, competitive, and technological demands."
Pending consent from the BC Financial Services Authority, North Peace Savings & Credit Union will host a series of member information sessions in the new year with a member vote anticipated in the spring. With a positive vote from members, North Peace Savings & Credit Union will retain the North Peace Savings name but become part of Interior Savings Credit Union in 2023.
About North Peace Savings & Credit Union
NPSCU is a financial services cooperative that is owned by its membership. We continually strive to provide proactive service and creative financial solutions for our members – all while investing in and supporting our communities across the Peace and Northern Rockies regions with branches in Fort St. John, Fort Nelson, and Hudson's Hope. We have been serving and helping our retail, business and wealth management members, and our community to reach their financial goals for more than 75 years. www.npscu.ca
About Interior Savings
Interior Savings is a financial service cooperative spanning the BC interior from the Thompson Okanagan in the south and up through the Cariboo with branches from Oliver to Prince George. We provide a full range of personal and business banking, investment, and insurance solutions to approximately 80,000 members. With a passion for educating and empowering others to achieve their financial goals, we focus on providing advice tailored uniquely for each one of our members and have supported our collective membership and invested in our local communities for over 80 years. www.interiorsavings.com
To Learn More
Email North Peace Savings & Credit Union at strongertogether@npscu.ca or reach Interior Savings at strongertogether@interiorsavings.com.