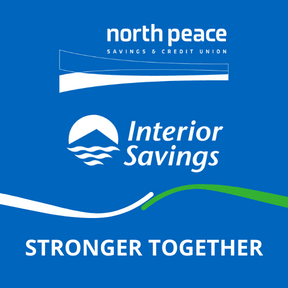 To Strengthen Our Credit Unions North Peace Savings & Credit Union and Interior Savings Credit Union embark on merger discussions
The Boards of two BC based credit unions, North Peace Savings and Credit Union (NPSCU) and Interior Savings Credit Union (ISCU), are pleased to announce they have engaged in merger discussions. After some initial dialogue, the two credit unions are confident that they have strong alignment and see the potential for this partnership to better serve their collective membership, employees, and communities, through scale and combined resources.
Combined, the two credit unions have over 155 years of experience serving communities in BC. Collectively, they could provide a network of 26 branch locations and 16 insurance locations, with approximately 90,000 members, spanning across 18 communities in the BC southern interior, Cariboo and Northeastern BC. Combined assets under administration (including wealth management assets) would be approximately $4.35 billion as of June 30, 2022.
"For the last number of months, we have been exploring options to ensure the long-term financial stability and viability of our Credit Union to best serve our members, staff, and community" says Tracey Wolsey, NPSCU Board Chair. "The Board of North Peace Savings and Credit Union is confident that a merger with Interior Savings Credit Union, a sizable, highly respected, and like-minded credit union that shares the importance we place on our community, our people, and the service we offer, will be a partnership that provides mutual benefits and will make us better together", adds Wolsey.
With a Memorandum of Understanding in place, the credit unions are in the very early stages, working to complete a thorough assessment of the opportunity. Provided the boards of both credit unions agree this partnership is in the best interests of their members, employees and communities, the next step would involve seeking regulatory review and consent, competition bureau consent and ultimately consideration and vote by the members of NPSCU. As the assessment and due diligence progresses, members will be provided with periodic updates through regular member communication channels.
"We are very excited by the potential of this partnership," says Rob Shirra, Board Chair, Interior Savings Credit Union. "By combining our two respected and values-based financial institutions, we see great opportunity to not only achieve more for our members but to also make a greater positive impact in our communities."
To learn more, you can email North Peace Savings & Credit Union at strongertogether@npscu.ca or reach Interior Savings at strongertogether@interiorsavings.com.
About Interior Savings Credit Union
ISCU is a financial service cooperative spanning the BC interior from the Thompson Okanagan in the south and up through the Cariboo with branches from Oliver to Prince George. We provide a full range of personal and business banking, investment, and insurance solutions to approximately 80,000 members. With a passion for educating and empowering others to achieve their financial goals, we focus on providing advice tailored uniquely for each one of our members and have supported our collective membership and invested in our local communities for over 80 years. www.interiorsavings.com
About North Peace Savings and Credit Union
NPSCU is a financial services cooperative that is owned by its membership. We continually strive to provide proactive service and creative financial solutions for our members – all while investing in and supporting our communities across the Peace and Northern Rockies regions with branches in Fort St. John, Fort Nelson, and Hudson's Hope. We have been serving and helping our retail, business and wealth management members, and our community to reach their financial goals for more than 75 years. www.npscu.ca