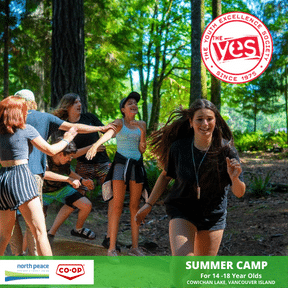 Say YES to Summer Camp!
Looking for a life-changing summer? NPSCU and the FSJ Co-op want to send you to YES Youth Leadership Camp THIS summer!
NPSCU & the Fort St. John Co-operative Association are once again sending 4 Peace Region youth to BC's YES Youth Leadership Camp. For over 45 years, YES has been offering week-long leadership retreats at their summer camp, located at the heart of Vancouver Island, on Lake Cowichan, BC. These leadership camps give youth aged 14—18 a chance to learn empowering new skills, develop and appreciate new values, and grow as individuals.
This amazing opportunity is not only a chance to learn and grow, it's also lots of fun! Expand your leadership and team building skills while connecting with youth aged 14 -18 from around the province!
For more information go to theyes.ca
HERE'S HOW TO APPLY!
Complete THIS APPLICATION FORM and email it to marketing@npscu.ca, drop it off at your nearest branch or private message it to our Facebook page.
In 200 words or less or by sending us a 1–2 minute video as a private message via our Facebook page, please tell us why YOU would like to attend YES Youth Leadership Camp:
Tell us who you are
Any extra-curricular activities or community groups you are involved with
What do you feel you would gain from the experience
Get creative and use your imagination!
SUBMISSION DEADLINE: Friday, May 26, 2023