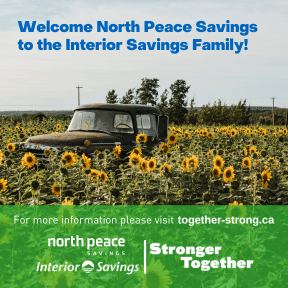 Welcome North Peace Savings members to the Interior Savings family!
Following the successful vote to merge our credit unions, we are thrilled to welcome you and your fellow North Peace Savings members as part of the Interior Savings family. Combining our teams and expertise, we will take all that is great about our two credit unions and make it even better.

What happens now
For the moment, you'll notice little change to your banking or branch. You will continue to recognize our brand as North Peace Savings, we will simply be removing 'credit union' from our signage as the legal name will be Interior Savings Credit Union. Over time, we'll integrate our operations, but the transition will be gradual, so that we can minimize disruption as much as possible, and we'll keep you informed at every stage of the process.

What's changing
Monthly chequing package fees are not changing, however there are some changes specific to each account that are outlined at www.together-strong.ca.

What isn't changing
Accounts – You'll still have access to your existing products, services, and accounts but you can expect better rates and over time, better fees, as well as a host of new options.
Ways to Bank – For now, you'll see very few changes to your banking experience but, as we integrate, new tools and an expanded branch network will become available to you.
High Quality Service – After the merger, you'll still be supported by the same smiling faces you know but, with our employee training programs, your experience will only be enhanced.
What to expect in the future
Expanded service with branches across the Thompson Okanagan, Prince George, North Peace and Northern Rockies.
Enhanced solutions with better product rates and fees.
Greater access with our member service centre available 6 days a week for extended hours.
And so much more!
Guiding you every step of the way
If you have any questions or feedback to share, please don't hesitate to get in touch by calling our Member Advice Centre at 1-877-787-0361 or emailing members@npscu.ca.
For future updates and changes related to your banking please visit www.together-strong.ca