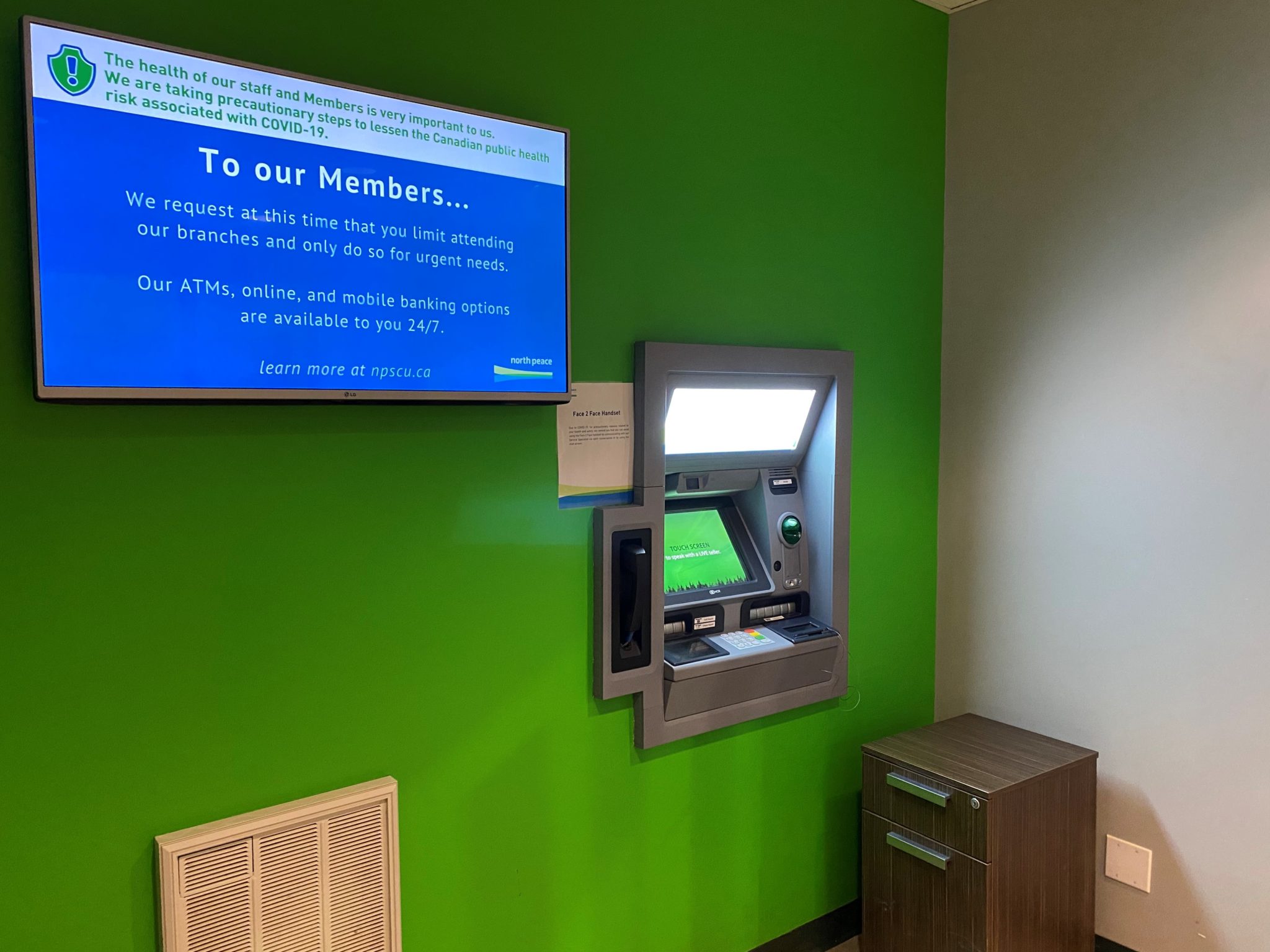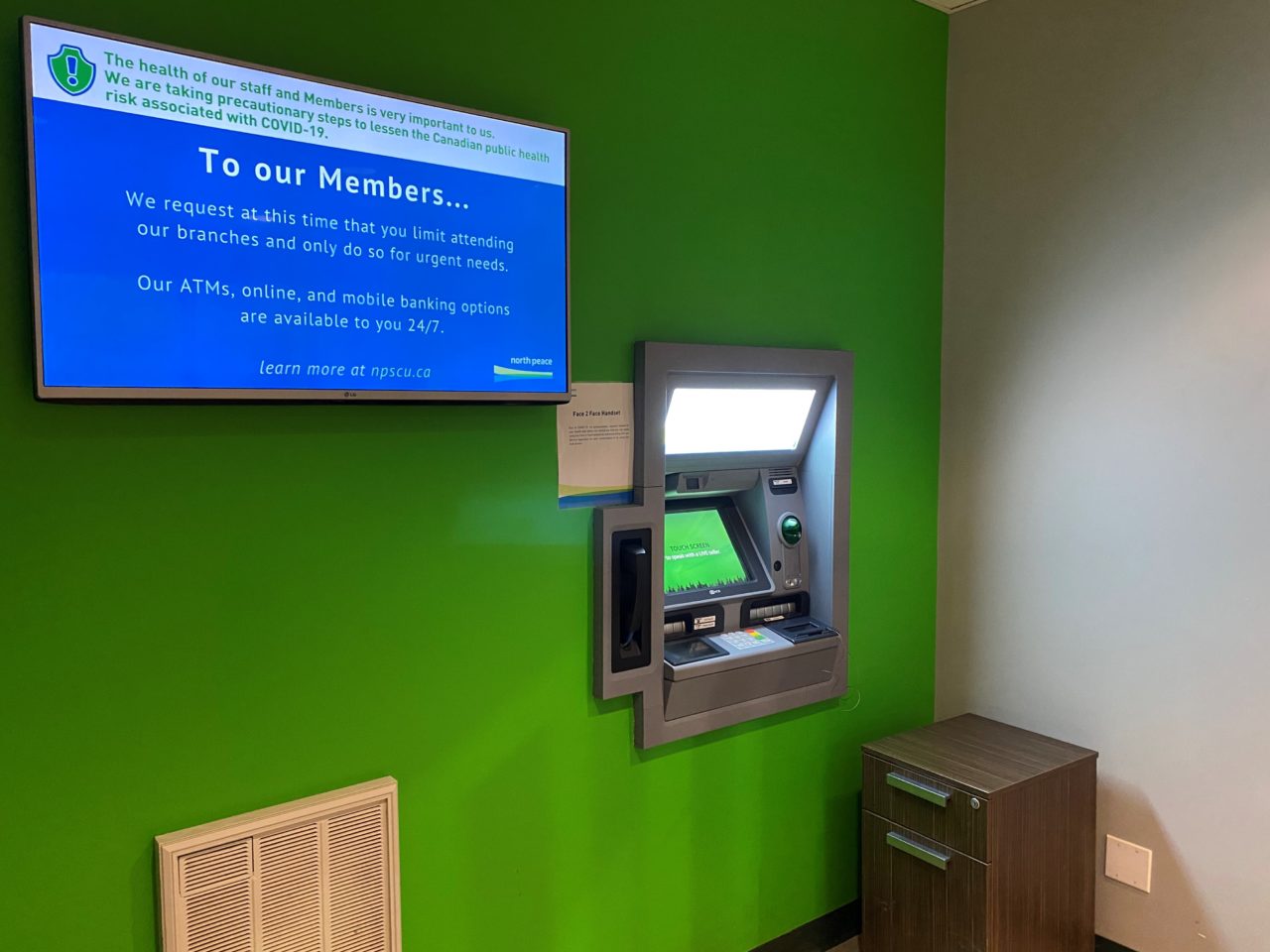 EFFECTIVE JANUARY 9, 2021:
---

After careful thought and analysis, North Peace Savings and Credit Union (NPSCU) will no longer be offering Face2Face Video Banking at any of our locations. Significant technology upgrades were required to keep the Face2Face Video Banking systems functioning. We want to let our membership know, that the NPSCU Team Members you know from Video Banking aren't going anywhere! They will continue to deliver our service promise to you in-person and over the phone.
IN FORT ST. JOHN
As always, our two ATMs can service your withdrawal and deposit needs 24 hours per day, 7 days a week. Our Fort St. John ATMs are located in our parking lot on the West side of the Branch.
IN HUDSONS HOPE
A new full-service ATM will be installed in our Hudson's Hope Branch to serve your withdrawal and deposit needs 24 hours per day, 7 days a week. The new ATM will be available on January 14, 2021.
HUDSON'S HOPE – SERVICE DISRUPTION
We are making all efforts to ensure a smooth transition and minimize disruptions to you. Our Hudson's Hope branch will be closed for a few days while we make this equipment change. The following is a list of technology change dates and Hudson's Hope Branch closures.
| | | |
| --- | --- | --- |
| Date(s) | Day(s) | Services |
| January 8 | Friday | Last day of Face2Face Video Banking |
| January 9-10 | Saturday/ Sunday | CLOSED to all services except ATM withdrawals |
| January 11 | Monday | ATM Withdrawals only and Branch Open 11:30am – 4:30pm |
| January 12 | Tuesday | CLOSED to all services and Branch Closed |
| January 13 | Wednesday | ATM Withdrawals only and Branch Open 11:30am – 4:30pm |
| January 14 | Thursday | ATM and Branch Open for all services |
---
Our branches remain open to support our members with strict COVID protocols. We request you limit branch visits due to COVID-19 and come in for urgent needs only. Appointments will be held through pre-booked digital methods, telephone and/or video.
While we expect that the ATM, Digital Banking options and Night Deposit will meet the majority of your everyday banking needs, there will be times you are looking for additional services or financial advice that can only be done in branch. Please see our website for our Branch Hours for Hudson's Hope, Fort St. John and Fort Nelson.
If you're new to digital banking, we invite you to call our Member Contact Centre and one of our service specialist can walk you through setting up digital banking on your computer, tablet or smart phone and give you a brief tutorial. You can also learn more about our online and mobile banking options here.
As always, our service specialists in the Member Contact Centre are available to answer any questions you may have related to our accounts, services, transactions, fees and online banking access. Call 1-877-787-0361 for assistance.