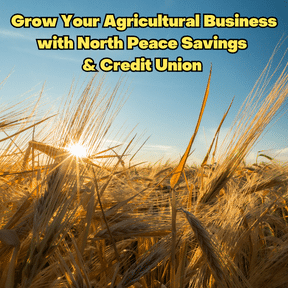 Grow your agriculture business with North Peace Savings & Credit Union
With its vast landscapes of canola and wheat fields and grazing herds of bison and cattle, the Peace Region rightly claims the distinction of being the "Breadbasket of the North."
The importance of North Peace's agricultural sector truly hit home when COVID-19 struck, causing havoc to global supply chains and highlighting the importance of local food security. The region offers endless possibilities for innovation and expansion in agriculture. It nurtures a huge variety of food, from grain staples to short-season crops like potatoes, carrots, beets, cabbage and tomatoes. Game farm production, especially bison, is thriving, complementing beef, bison, pork, sheep and poultry production. Apiculture, or the production of honey, further sweetens the agriculture sector. Organic farming is another growth area that is attracting young families from outside the region.
North Peace Savings & Credit Union (NPSCU) is cultivating relations with established operations, young farmers taking over the family business, cooperatives, or ambitious up-and-coming agriculturalists, helping seed new business and expand and modernize existing ones. To support these relations, NPSCU has partnered with the Canadian Agricultural Loans Act (CALA) Program, a federal loan guarantee initiative that increases the availability of loans to farmers, dairy owners, horticulturalists and agricultural cooperatives. CALA supports agricultural sector renewal, enhanced competitiveness and helps cooperatives enhance marketing initiatives. The lending program is especially helpful for newer operations that don't yet have a track record of sales. CALA loans are secured by the federal government, which guarantees repayment of 95% of any net loss on eligible loans. Long-term financing of up to 15 years is available, depending on the type of loan.
Usually, CALA loans are awarded to help finance real estate or large farm assets and expand existing operations. The aggregate loan limit for a single farm operation is $500,000. A farmer can borrow this amount to purchase land or construct or improve buildings. For example, if a farmer gets a CALA loan to buy a new $250,000 tractor, they can still access up to $250,000 to purchase additional land, or to build or repair buildings. The assets eligible for financing include livestock, share purchases and crop storage facilities. The asset being purchased or improved is also used as security for the loan.
For other types of loans, such as refinancing and consolidation, the limit is set at $350,000. Agricultural cooperatives can access upwards of $3 million, as long as 50% plus one of the co-op members are farmers.
The maximum interest rate for a variable loan is prime +1% and the maximum fixed rate is the residential mortgage rate +1%. NPSCU can help negotiate the type of payment schedule that works best for your operation's business cycle, be that monthly, quarterly, semi-annually or annually.
Give me a call and we can discuss options and develop a plan to expand your agricultural business.
Associated Members

Thea Warriner is a Manager, Manager, Small Business Thea was born and raised in Wainright Alberta, where her family owned and operated a successful small business in the auto industry. Growing up with parents who worked for themselves piqued Thea's interest in business. Thea now lives in Vermilion with her significant other and 5 children. Thea's partner is an entrepreneur in the Oil and Gas Industry, giving Thea great appreciation and understanding for the entrepreneurial…

read more