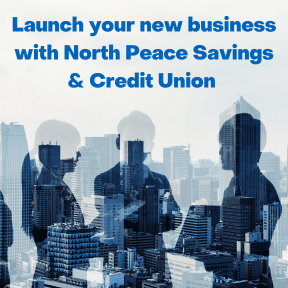 Launch your new business with North Peace Savings & Credit Union
From professionals to producers, energy sector to the service industry — there's no end to the creative entrepreneurship that forms the economic backbone of the North Peace region.
The pandemic spurred an entrepreneurial boom across Canada, and the North Peace region is no exception. New enterprises are being launched by enterprising, energetic, savvy and forward thinking entrepreneurs who are embarking upon small business initiatives — most of them with five or less employees — in a vast range of industries: science, technology, food and beverage, energy and the services sector.
North Peace Savings & Credit Union is proud to be a trusted advisor supporting these exciting initiatives. We connect entrepreneurs with a wide-ranging commercial lending program that helps new start-ups and new and established members get a business off the ground or expand and modernize an existing one.
The Canada Small Business Financing Program (CSBFP) helps stimulate economic growth and job creation across the country. For entrepreneurs unable to come up with a conventional down payment, this is no longer a worry thanks to North Peace Savings' partnership with the CSBFP.
Under CSBFP, the federal government shares the risk with lenders with security supported by the government, making it much easier to get approved. The CSBFP is also great for established businesses to ensure ongoing access to credit to help in day-to-day operating expenses following a significant investment into the company.
The amount that you can borrow under CSBFP varies according to several factors, including what you intend to spend the money on. The loan money can be used to support capital costs, operating and start up costs, or purchasing assets.
The CSBFP program offers financing up to $1.15 million dollars for a combination of purposes including up to $150,000 for working capital and operational costs.
The business team and I at North Peace Savings can help you negotiate a loan amount as well as amortization terms and repayment options at competitive interest rates.
North Peace Savings will help you find the right lending solutions to support your path as an entrepreneur and ensure your business gets off the ground with minimum stress bringing prosperity to you, your family, and the beautiful North Peace region we all call home.
Associated Members

Thea Warriner is a Manager, Manager, Small Business Thea was born and raised in Wainright Alberta, where her family owned and operated a successful small business in the auto industry. Growing up with parents who worked for themselves piqued Thea's interest in business. Thea now lives in Vermilion with her significant other and 5 children. Thea's partner is an entrepreneur in the Oil and Gas Industry, giving Thea great appreciation and understanding for the entrepreneurial…

read more