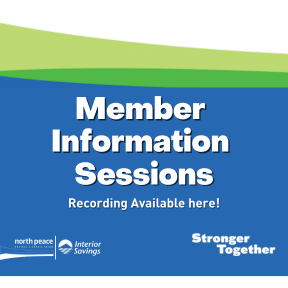 Proposed Merger Member Information Sessions
VOTING IS CLOSED, CLICK HERE TO VIEW RESULTS
The recording is now available for the April 27th, Virtual Information Session (link below).
We are also inviting all NPSCU members to come to our In-person information sessions which are scheduled as follows:
| | | |
| --- | --- | --- |
| Location | Date | Time (PST) |
| Virtual Session | April 27, 2023 | View Recording Here |
| Fort St. John Branch | May 1, 2023 | 4-7pm |
| Fort Nelson Branch | May 2, 2023 | 4-7pm |
| Hudson's Hope Branch | May 3, 2023 | 4-7pm |
The Member Information Sessions will include a formal presentation starting at 5:00pm and will repeat at 6:00pm. Refreshments will also be provided. Please register at www.together-strong.ca. Walk-ins are welcome.
Following the Member Information Sessions, during the period of May 8-12, 2023, North Peace Savings and Credit Union members will be asked to vote on the Proposed Merger between North Peace Savings and Credit Union and Interior Savings Credit Union.
Be sure to check your mail for your copy of the comprehensive Members' Guide to the Proposed Merger, official notice of special resolution and details on the upcoming information sessions and how to vote.
We encourage you to visit www.together-strong.ca to learn more about the Proposed Merger and register in advance for one of our upcoming information sessions, where you will have an opportunity to ask questions and learn more about the Proposed Merger.
If you have any questions, please visit us in branch or contact us at strongertogether@npscu.ca.